Thinking about going to NAB 2017? Here's everything you need to know to have fun at the world's largest video conference.
As a motion designer NAB isn't just a conference, it's really a rite of passage. With over 100,000 attendees there is no bigger platform to network with people from around the industry. So if you're new to motion design or simply looking to have a good time at NAB we put together a podcast and article to help you have a great time at 
NAB 2017
.
What to Expect at NAB 2017
NAB is the world's largest gathering of video professionals and companies. Unlike some of the other conferences found here on School of Motion, NAB doesn't just focus exclusively on motion graphics, rather you'll find a collection of video disciplines from filmmaking and TV production to motion graphics and gaming. In short, if it's on a screen you'll find it here.NAB takes place on the north side of the Las Vegas Strip making it a prime location to host an epic conference. The conference takes place in 11 separate buildings in and around the
Las Vegas Convention Center
.
At NAB not all badges are created equal, but you don't have to spend thousands of dollars to have a good time. Here's a quick breakdown of the badges you should get as a motion designer:
An exhibitor badge gives you access to the Exhibits, the Show Opening, and a few predetermined sessions. Most NAB attendees have a standard exhibitor pass so don't feel like you will have a bad time if you just get a standard pass. While the normal price of an exhibitor pass is $50 there are tons of free coupon codes going around the internet that can get you in for free. Just do a
simple search and you'll find one
. Hurry though! Codes tend to expire as we get closer to NAB.
The second badge that you as a motion designer should be interested in is the
Post | Production World
Badge. The badge gives you access to sit in on sessions taught by professionals from around the video editing and motion graphic industry. If you want to see any of the sessions Joey is teaching you'll need to have a Post | Production World badge.
NAB is literally a non-stop barrage of events and programs designed to cater to you the motion designer. This year NAB has
1,926 different booths
, each one trying to grab for your attention. Needless to say it can be quite daunting to navigate all of these booths without a plan. As a motion designer the main building you will want to focus on is the South Hall, but that being said the entire place is full of interesting hands-on exhibits.Here are a few of our favorite things to do at NAB:
The best thing to do at NAB is simply check out the exhibits and meet new people. At NAB you'll find motion designers and editors from around the world along with companies that produce amazing products and services. If you just walk around you'll find the biggest names in the video editing world. Here's a few booths you have to see:
Adobe
Maxon
The Foundry
GreyScalegorilla
Wacom
Blackmagic Design
Canon
GoPro
RED
Larger booths like Maxon and Adobe put on sessions at their booths featuring professionals from around the industry. The best part is you don't have to pay extra to see them. For example, Maxon's booth this year will
feature Cinema 4D legend EJ Hassenfratz and Nick Campbell
along dozens of other celebrity speakers from around the industry. Last year Adobe had Andrew Kramer speak at their booth so we wouldn't be surprised to see him at the booth again. These sessions are also a great opportunity to take selfies with your favorite software celebrities. Seriously, Nick Campbell is a walking god at NAB.
Almost every single booth at NAB will be giving away something. We recommend filling out every entry form you can get your hands on. The odds of winning are actually pretty good and you will get to learn about a new products while you fill out the form.
Virtually every booth no matter how big or small will be giving away free swag and goodies as you walk around the floor. Don't feel any shame to walk up to a booth and leave with breath-mints, flash drives, or whatever else they are giving away. It's just like trick-or-treating and all you have to do is dress up like a nerdy motion designer which shouldn't be a problem at all if you're reading this article. Also, every year Filmmaker IQ does a review of
the best candy at NAB
. Be on the lookout for that!
5. Post | Production World
Location:
South Hall Meeting Rooms
A training event with over
250 sessions
focusing on all-things post.
Post Production | World
features celebrity professors from around the industry. If you're looking to learn something new or refresh your skills this is the place to go. Keep in mind you will need a special 'Post | Production World' badge to get in.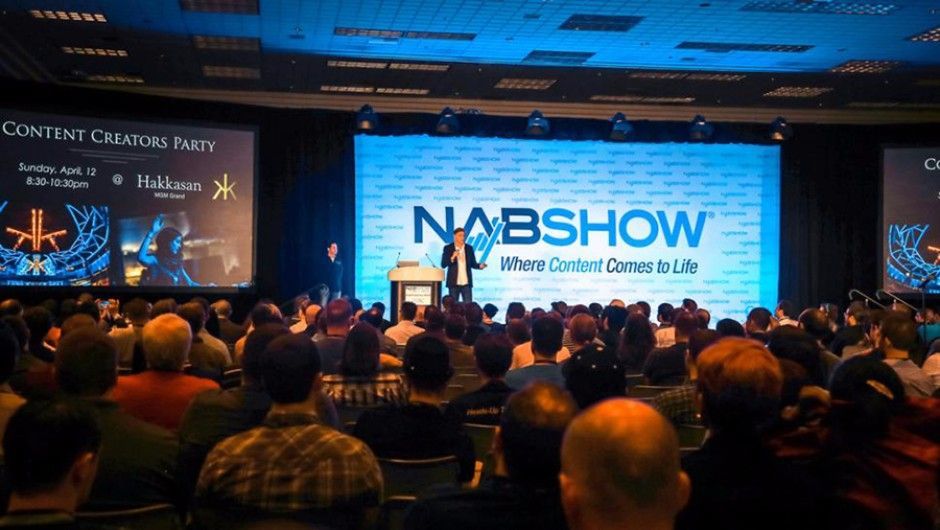 Try to land your dream job at the 2017 NAB Career Fair. NAB's career fair is one of the most robust in the industry. Notable recruiters include Nickelodeon, CBS News, and More. If you're looking for work or just want to network with big companies in the industry this is a great event to go to. We recommend bringing a stack of resumes and business cards to the Career Fair to give to your potential employers.
NAB is a fantastic place to meet people just like you and after-hour parties are a great way to break the ice. The two best parties for motion designers include the
Media Motion Ball
and the
SuperMeet
, but there are literally
dozens of parties hosted by mograph companies
from around the industry (more on this below).
The Plugin Pavilion is where you can meet folks from your favorite plugin companies. This year's exhibitors include Digital Anarchy, RE:Vision, and more. Be sure to stop by their booths. Who knows? You might get some sweet NAB coupon codes while you're there.
10. Aerial Robotics and Drone Pavilion
The Aerial Robotics and Drone Pavilion hall features the latest in drone technology. The drone pavilion is complete with a drone park where you can fly the newest drones on the market. Sure it's not exactly mograph related, but it is super cool.
Talk with VR and AR innovators around the industry and try out the latest entertainment technology. If you want to try out a lot of the VR experiences make sure you arrive early so that you can reserve your spot. While you're there you can talk with VR Motion Graphic companies like
Mettle
.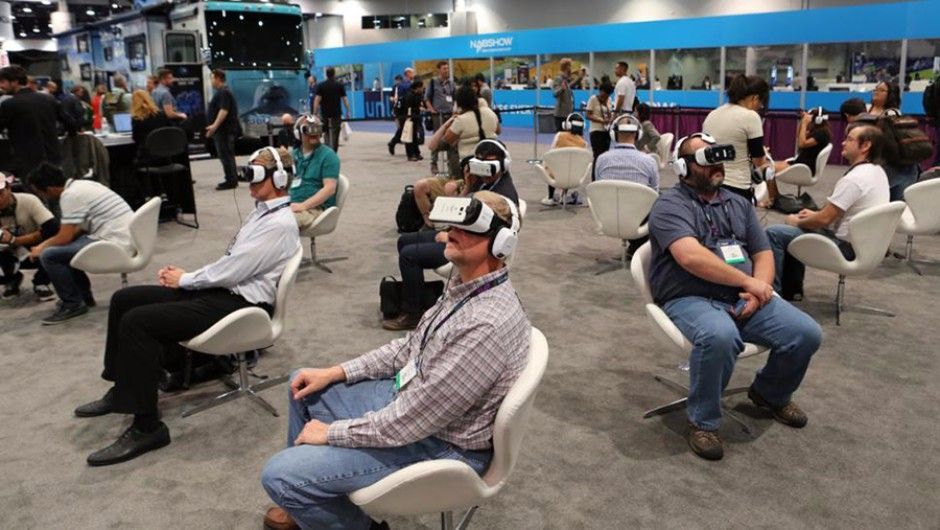 Future Media Concepts has kindly asked Joey to present at a few sessions at NAB 2017. All of Joey's sessions will be at Post Production World. In order to see any of the sessions listed below you need to make sure you have a Post Production World badge which starts at $510. The price may be steep, but let's get real you're probably going to blow more than that at the blackjack tables anyway.
1. Design Hacks for Non Designers
Location:
S224
Day:
Mon. April 24
Time:
2:00 - 3:15 pm
Becoming a great designer doesn't happen overnight, but luckily for us there are a few simple things that you can do to quickly up your designs in only a matter of minutes. In this helpful session Joey will show you how a few of his favorite design hacks for creating beautiful graphic design projects fast. This session is a based on our Design Bootcamp.
2. Advanced Expressions Workshop
Location:
S224
Day:
Mon April 24
Time:
5:00 - 6:15 pm
Expressions can be scary. Especially if you don't have a background in javascript. But you don't have to live in silicon valley to get started with expressions in After Effects. Learn some of Joey's favorite expressions and animation techniques in this advanced-level After Effects workshop.
3. Animation Bootcamp: The Crash Course
Location:
S224
Day:
Tue April 25
Time:
9:30 am - 12:00 pm
The Animation Bootcamp here on School of Motion is one of the best ways to learn how to become an animator in After Effects. However, if you're not sure if you should pull the trigger just yet, check out this crash-course at NAB. While the course won't cover everything found in the Animation Bootcamp it will cover some of the most important topics like follow-through, anticipation, and timing & spacing. If you're an aspiring animator this is a can't-miss session.
4. The Creativity Collective: After Effects Power Tips from Top Experts
Location:
S220
Day:
Tue April 25
Time:
5:00 - 6:30 pm
After Effects is an incredibly deep software. You could literally spend every day working in After Effects and still learn something new each time you sit down. To help us get up to speed with some of the latest innovations and tricks inside of After Effects NAB has put together an After Effects rockstar panel to discuss the ins-and-outs of After Effects. Here's a list of the experts on the panel:
5. Advanced Keying & Compositing in After Effects
Location:
S224
Day:
Wed April 26
Time:
2:00 - 3:15 pm
Keylight is just the beginning. To really sell your scene it will take a healthy balance of tracking, compositing, color correcting, and more. In this advanced lesson Joey will show you how to key and composite in After Effects. If you've ever wanted to take your skills beyond a simple green screen key this is the course for you.
Once the conference center doors close the party has just begun. There are motion design events literally every night with (probably) more booze than you could ever drink. Here's a few of our favs:
1. Media Motion Ball
Location:
Monte Carlo Hotel
Time:
Monday, April 24 / 5:30 - 9:45 PM
Price:
$55 or $105
One of the best after-hours events for motion designers is the
Media Motion Ball
. There's no single event all year that puts together as many After Effects celebrities and developers in one place. Despite the name the Media Motion Ball is really just a hangout and dinner sponsored by companies from around the industry. Here you'll find reps from Adobe, Maxon, RedGiant, Frame.io, Video Copilot, and More. It's a great place to meet your favorite mograph artists and make some new friends.
Location:
The Rio Hotel
Time:
Tuesday, April 25 / 7-11 PM
Price:
$15
The
SuperMeet
is to editors what the Media Motion Ball is to motion designers. At the SuperMeet you will meet with hundreds of video editors from around the industry. It's a great opportunity to learn something new and network with like-minded artists. This year's SuperMeet will feature Oscar Nominee for Sound Editing, Dody Dorn ACE. Like the Media Motion Ball the SuperMeet has a small expo with booths at the beginning of the event where you can talk with software and hardware companies from around the industry.
NAB is definitely a great place to learn the latest in industry concepts and network with professionals from around the industry, but at the end of the day there's a reason why they host this thing in Vegas. Almost every single sponsor at NAB has their own private party and there is a slew of public parties each night. BroadcastBeat has kindly put together a
list of 2017 NAB parties
. If you know of any more let them know and they'll add it to the list.
The food in Vegas is ridiculous. You won't be hard-pressed to find tons of great eats in and around the strip. Here's a few of our recommendations:
1. Secret Pizza at the Cosmopolitan ($)
The Cosmopolitan (or the Cosmo as the kids call it) is one of the trendiest hotels in Vegas. The place is usually slammed with millennials as far as the eye can see and they have one of the coolest nightclubs on the strip. But, the coolest part about the Cosmo is their super
secret pizza bar
. It is literally hidden down a hallway with no signage. The pizza is crazy good and a must-try if you're in the area.
2. Eggslut at the Cosmopolitan ($)
Eggslut
is one of the most raved about fast-food places in Vegas. Located on the second floor of the Cosmo it's a great place to get cheap late-night eats. At Eggslut you can 'cure' your hangover and eat the best egg sandwich you'll ever have for about $10.
This ain't your Mom's Golden Corral. There's a reason why Vegas is known for their Buffets. Vegas is a land of all-you-can-eat crab legs and ribeye steaks. The buffets are usually around $40-50 a person, but if you can afford it you won't be disappointed.
4. Nobu at the Hard Rock Hotel ($$$)
Nobu
is another great spot to hit up if you like asian-fusion cuisine. The food and decor is a lot more casual than Carne Vino (listed below) but no-less delicious. If you're a sushi lover this is the place to go.
5. Carne Vino at the Venetian ($$$$)
If you just hit it big at the craps table (or just finished the second round of funding on your tech startup thanks to generous contributions from Jered Leto and Kevin Spacey)
Carne Vino
is one of the best places to eat at on the strip. The steakhouse has been named one of the best steakhouses in the world and they know it. Be prepared to drop at least $150 a person if you go for dinner.
There are a ton of really great hotels and resorts near and around the convention center in Vegas. The best thing to do is use
NAB's official hotel portal
to book your room. NAB guarantees the lowest rates on the strip so there's no need to shop around on other hotel booking websites.One rookie mistake people make is thinking they need to stay next to the convention center. In all honesty as long as you are on the strip you can take the monorail to the convention for only a few bucks. You can see the
exact monorail route on their website
. You'll be exhausted from walking all day anyways so you won't want to walk back to your hotel.
Pace Yourself -
NAB is a week-long experience. If you push it too hard on Monday you will be totally gassed before the end.
Wear Comfortable Shoes
- It's likely that you will walk at least 3 miles a day at NAB so leave the flip-flops at home.
Carpool from your Hotel
- save some money on a cab ride and split the fare with a stranger. It's a great way to meet someone new and save a buck.
Take an Afternoon Nap
-
NAB begins wrapping up around 4pm each day. Take this time to go take a nap and rest before the parties start.
Drink Water Too, You're in the Desert…
-
Every year there are multiple people that pass out from dehydration at NAB. You can't live on beer alone, drink some water and stay hydrated.
Bring Business Cards
-
You are going to meet hundreds of like-minded professionals in the industry at NAB. The best way to help them remember you is to give out business cards.
Write Business Card Notes
-
After someone hands you a card write a few quick notes about your meeting on the card so you can remember who they are and why they are in your wallet.
Take the Monorail
-
If you're staying on the strip consider taking the monorail. It lets off right at the convention center.
Be Friendly
-
It can be intimidating to talk to anyone if you're introverted, but in our experience everyone at NAB is super friendly. Plus, Everybody's a Nerd. Just like You!
If you take anything away from this article know that you will never be able to do everything at NAB, but if you go in with a flexible plan your time in Vegas is going to rock. Look around for the School of Motion team. See ya in Vegas!