Enhance your character animation workflow by building joystick and slider controllers natively in Cinema 4D.
One of the most popular After Effects tools ever created is the amazing Joystick n' Sliders. This tool populated Instagram with awesome character rigs, all while taking the strain out of the process. Our thumbs were
very
thankful. But why was it so popular? 
It all comes down to the simple and intuitive design for controllers. Now you might recognize how Joystick n' Sliders operates, but did you know that this workflow actually originated in 3D? And that you can easily replicate this workflow in Cinema 4D?
Take a step-by-step journey with EJ Hassenfratz as he ties together Cinema 4D's Pose Morph, 2D Vector Fields, and Driver Tag. These all work in unison to build one super slick joystick and slider rig -- ready to animate your characters much, much easier.
So hook some caffeine to your veins, cram a donut in that open mouth, and let's crack open our laptops. It's time to learn how to create joystick and sliders in Cinema 4D.
Joystick and Slider Style Workflow Tutorial
Joystick and Slider Cinema 4D Project File
For practice, make sure to download the free Cinema 4D project file below! Inside, you'll find two goodies: The 3D character from the tutorial, ready to for rigging, and a completely rigged character you can use for reference, or to just play around!
Download the Hat Boi C4D Project Files from this Tutorial
Download Now
3 Things You'll Learn in this Cinema 4D Tutorial
There's a lot covered in the tutorial, so here's a quick overview of what EJ will be teaching you. Trust us, these techniques are going to boost your workflow efficiency in Cinema 4D. Think of how many more cookies you'll be able to eat with all that free time!
Using Pose Morph in Cinema 4D can be a little bit tricky, but with a proper set up and a little guidance you can navigate the murky waters of the unknown.
Learn from EJ, as he shows you which parameters and transform properties need to be stored in Pose Morph for each varying mouth pose.  Using simple pose morphs, you can easily set up animations - such as eyebrows going up and down - by storing different poses of your eyebrows in a Pose Morph.
Note:
If you have a rig with Deformers - like a Bend or Skin deformer that will animate your character - be sure to check the 'Post Deformers' box so it will be applied
after
those deformations.
3.

Using 2D Vector Fields
The joysticks you can add in Cinema 4D aren't all that different from the ones controlling the old Atari 2600. In C4D, this joystick UI is called a 2D Vector Field.
In C4D, this joystick UI is called a 2D Vector Field. To set up, you'll create multiple poses for each of the mouth shapes you want to morph between and create custom User Data for your joystick UI.
Learn how to properly set up the a 2D Vector field as well as prepping it to send information to the driver tag that will tie this all together.
To get this whole shebang working, we're going to need to make the joystick UI actually drive the poses we set up earlier, and that's all done with the aptly named Driver Tag.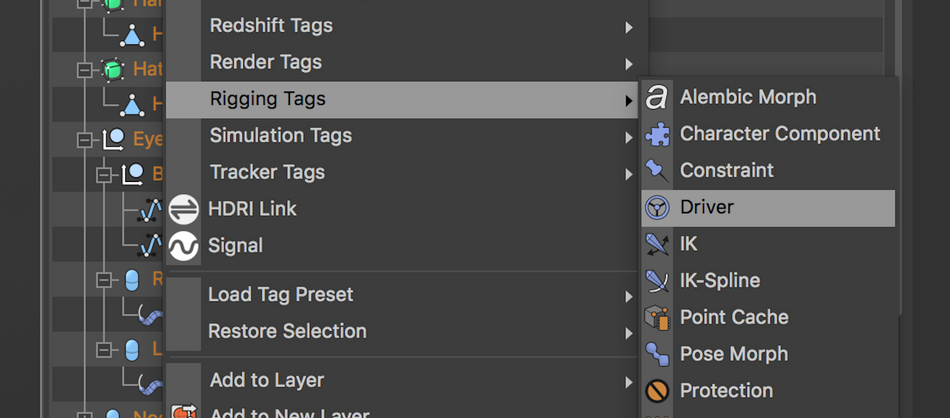 The Driver Tag allows you to set up which poses you want to be assigned to which part of your joystick UI areas.  Then you simply need to plug in the 2D Vector Field joystick UI and Pose Morph Tag that you want the joystick UI to drive,  allowing you to control the morphing between the poses you set up with the joystick control.  Buckle up - you're ready to animate.
Start Mastering Cinema 4D
Hopefully this tutorial opened your eyes and raised your eyebrows to the possibilities of Pose Morphs and the Joystick and Slider workflow inside of Cinema 4D. This workflow isn't only for character work but for "mography" type of animations as well. We highly recommend you play around with this technique as it really can change the way you work and animate in 3D.
If you're ready to climb the Cinema 4D mountain, it's time to enroll in
Cinema 4D Basecamp
. 
This class, led by EJ himself, is designed for artists with little to no experience with the software. The course will get you up to speed with all of the key aspects of Cinema 4D.
From Day 1, you'll be learning best practices; no bad habits to unlearn later. The course features exercises and challenges based in the world of Motion Design projects.
We can't wait to see the incredible work you'll do with this amazing software.