Back to Blog
Inside 3D Design: How to Create An Infinite Mirror Room
An Infinite Mirror How-To Guide for Cinema 4D and OctaneRender from Motion Design Artist and Educator David Ariew
Have you ever been to a museum with a mirror room installation? Now, imagine creating that effect with any object on your own computer.
First, David produces simple mirror boxes with a chandelier object, using a mix material and a few settings changes. Next, he walks you through a more complex geometry for the mirror room, and uses beveled spheres and other intricate patterns with
Merk Vilson's Topoformer plugin
. Then, he covers the new universal camera features, including the fisheye lens and a variety of aberration settings. Finally, he increases the complexity of the look using Topoformer and
Respline
— again, all inside the mirror room.
How to Create an Infinite Mirror Room: Tutorial Video
How to Create an Infinite Mirror Room: Tutorial Project Files
Create an Infinite Mirror Room: Tutorial Project Files
Download Now
How to Create an Infinite Mirror Room: Explained
Establishing the Mirror Box Foundation
To lay the mirror box foundation for your infinite mirror room, add a box to your scene and scale it up until it fits all around the object you want to reflect.
Then add a glossy texture to your cube, and change the color to black.
Next, set the index to 8.
Finally, under the Kernels tab in your Octane settings, change the GI clamp to 1.
Note: to see the changes, you must be in Path Tracing mode.
Fixing Unwanted Backlights
To remove the lights repeating all through the scene, you can use Octane's simple light-linking feature.
First, add an Octane object tag to the cube by right-clicking the object in the object manager, and selecting C4doctane tags and Octane ObjectTag. Then, click to enable the tag's Light Pass Mask.
Next, navigate to the Octane Light Tags attached to your light objects, and under the Light Settings tab set the Light Pass ID to 2.
Finally, navigate back to the previously added Octane ObjectTag and, under the object layer, untick the 2 under Light Pass Mask.
Using the Camera to Produce Effects
Now that we have our foundation, it's time to start experimenting and customizing until we reach our desired result.
One effective technique is altering focal length. To increase the size your object appears in perspective, lower the focal length to 14mm or below; to shrink its appearance, increase the focal length.
This can be achieved manually with the Focal Length setting through the Object Manager panel, or with the keyboard shortcut: the 2 key while holding and dragging the right-mouse button.
Using the New Universal Camera with Octane 2019
If you have Octane 2019, you now have access to the new Universal Camera, which offers spherical and barrel distortion, as well as barrel corners, adding unique curvatures to the lens.
Plus, there are a number of cameras you can now test out, some providing infinite focal lengths, and others simulating a 360-degree view.
Bokeh is the blur effect that mimics the way a lens renders out-of-focus points of light and, when used correctly, it can add great dimension to your scene.
To use the Universal Camera to create this effect, add value to the F-stop, and then adjust the Aberration settings.
Adjusting the Reflection Pattern
To change the reflection pattern, scale your object up or down. The greater the distance between your object and its reflective surface, the fewer examples of the reflection you'll see.
Altering the Object Shape
To further experiment with other pattern possibilities, change the shape of your object.
David, for example, leverages the inner extrude method to create a new square polygon and then extrudes that square to form a new box that pushes toward the center of the object.
Here's what it looks like if you switch to a tetrahedron: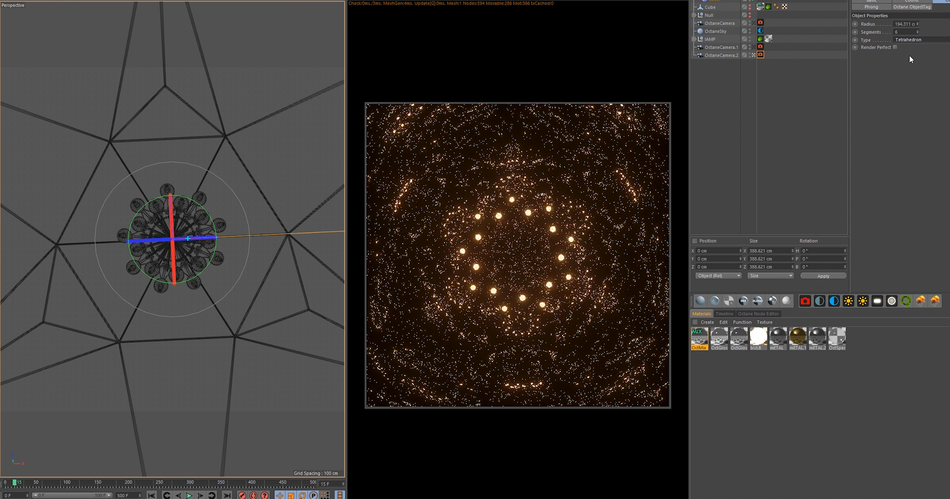 Then, for even more mirror room patterns, rotate your object, move the camera or switch the lens.
"I love how this makes you look like you're some kind of mathematical super-genius, when in reality you have no idea what you're doing." – David Ariew
While we (and others) offer a ton of free content (e.g., tutorials like
this
), to
truly
 take advantage of 
everything
 SOM has to offer, you'll want to enroll in one of 
our courses
, taught by the top motion designers in the world. 
We know this isn't a decision to be made lightly. 
Our classes
 aren't easy, and they're not free. They're interactive and intensive, and that's why they're effective. 
In fact, 99% of our alumni recommend School of Motion as a great way to learn motion design. (Makes sense: many of them go on to work for the 
biggest brands
 and 
best studios
 on earth!)
But, with so many courses to choose from, which one is right for you?
If you're looking to master Cinema 4D, there's only one answer
:
In
Cinema 4D Basecamp
, taught by School of Motion 3D Creative Director
EJ Hassenfratz
, you'll learn modeling and texturing, compositing, keyframes and other animation methods, cameras, staging and lighting.
And, as with all of our courses, you'll gain access to our private student groups; receive personalized, comprehensive critiques from professional artists; and grow faster than you ever thought possible.