Back to Blog
Inside Explainer Camp, a Course on the Art of Visual Essays
You Won't Believe What

Explainer Camp

Students Create for the Course!
If you're unsure how to navigate the increasingly competitive world of motion design,
Explainer Camp
is your answer.
You may be wondering, should I work freelance, join a studio or search for a design department job at a regular company? How much should I charge for a project? Or, should I charge per hour? What about timelines — what do clients expect, and what's realistic?
What is the process of creating a professional motion design project, from start to finish?
All of these questions, and many more, plague the minds of aspiring motion graphics designers — and it was this frustration, voiced across the industry, that led to the creation of
Explainer Camp
.
Developed and taught by MoGraph guru
Jake Bartlett
,
Explainer Camp
is a deep dive into the art (and science) of visual storytelling.
Unlike most motion design courses, online and off,
Explainer Camp
guides you through the process of brainstorming, creating and completing a project
— from script to final render.
Unsure? That's OK. We know this isn't a decision to be made lightly. 
Our courses
 aren't easy, and they're not free. They're interactive and intensive... but that's why they're effective. (There's a reason 99.7% of our alumni recommend us!)
In this article, we'll show you some of the incredible work that's come out of
Explainer Camp
, only recently; and, we'll walk you through the entire course, week by week.
Inside

Explainer Camp

: Student Homework
Inside

Explainer Camp

: A Week-by-Week Walkthrough
In the first week of
Explainer Camp
you'll meet your classmates, acclimate to the Camp format, and start your first project, testing your artistic skills by learning to think visually through sketching.
In the second week of
Explainer Camp
you'll learn about
the initial phase of a client project
. You'll bid, schedule, and begin to concept this project for your client, getting into the nitty-gritty.
Week 3: Build a Blueprint
During Week 4 of
Explainer Camp
, you'll have the opportunity to finesse your concept and animatic, while learning how to show off your finished work to get the attention of clients and employers.
Week 5: Earn Your Design Badge
Time to make it pretty! In Week 5 of
Explainer Camp
, you'll create styleframes and design boards to present to your client.
Week 6: Grab Your Walking Stick
With a strong foundation and buy-in from your client, you can begin crafting your final project. It's animation time! During Week 6 of
Explainer Camp
, your Teaching Assistant will guide you through the creation of your 30-second final video, providing notes and critiques along the way.
During Week 7 of
Explainer Camp
, your second catchup week, you'll have the opportunity to fine tune your project, while gaining further insights on and learning new techniques for enhancing the persuasiveness of your work.
During the second-to-last week of
Explainer Camp
, you'll continue your project work, as well as learn how to appropriately receive and address client comments, optimally present your work, and direct voiceover talent.
Time to finish strong! In Week 9 of
Explainer Camp
, you'll complete your project, learning sound design, mixing, and how to apply those final touches that separate
good
from
great
.
As with all School of Motion courses,
Explainer Camp
concludes with Extended Critique: bonus time that allows you to submit your final project before the course ends.
Inside

Explainer Camp

: Learning More
You can also sign up to be the first to know when
Explainer Camp
goes on sale!
The industry has spoken
:
investing in yourself through continuing education is the number-one way to position yourself for future success
. Of course, your personal MoGraph journey will depend on your current skill level and professional goals and, with so many courses to choose from, picking the right one can be pretty overwhelming.
To help, we've developed
a course quiz
to determine which School of Motion course is right for you.
If you're not ready, we also offer a free
Path to MoGraph
course, the critically acclaimed and wildly popular
Freelance Manifesto
book, as well as this handy e-guide to getting hired as a motion designer, featuring insights from 15 of the world's leading studios: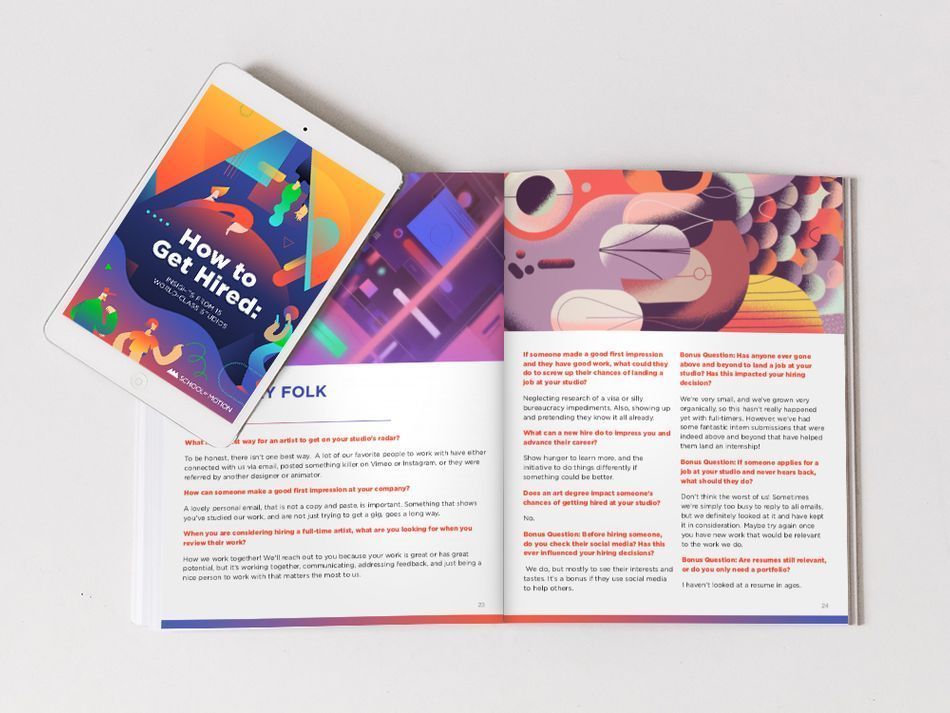 How to Get Hired: Insights from 15 World-Class Studios
Download Free