Maxon has just launched Cinema 4D R25, and you'll need to see it to believe it!
Cinema 4D is a must-have piece of software for any 3D motion designer. While it it quick to understand, it can take time and patience to master. We've dedicated years to learning the ins and outs of this program, so we're very excited any time Maxon launches a new update. We were expecting the usual optimizations and responses to customer feedback. What we weren't expecting was a serious overhaul.
This is EJ Hassenfratz, 3D Creative Director for School of Motion, and we've got a lot to talk about. Maxon's Cinema 4D update is comprehensive, improves functionality, and brings in some great new features. With changes this radical, some folks might be wondering what just happened to C4D. I don't want you to wait any longer, so let's get into some of these updates!We're going to discuss:
Grab Our Free Guide to Cinema 4D R25
Grab this free guide to new features in C4D R25!
Download Now
Cinema 4D R25 Redesigned UI
The first and most noticeable change is the redesign
User Interface
. Maxon spent a lot of time thinking about how their app is used, how artists move through the software, and what areas needed a quality of life update. The result is a reorganization of tools, new icons, and overall a ton more flexibility.The ability to move icons from side to side around your viewport allows a new level of customization. You can design the app to work the way you've always wanted, with icons exactly where you want them to be at a moment's notice.
One of my favorite new additions is the
Previous Used Tools
widget that appears in your HUD. If you're working with a few different tools on a project, you can quickly switch between them without having to dig through icons to find the one you just had in hand. It's a small but vital time saver for your workflow.
The
timeline
has also received an update, with the colors matching those of the axis. It makes it a lot easier to visually see which dimension track you're affecting. We get it: Change is hard.
This is a bold new UI design and offers many quality of life improvements, but there are some changes—such as burying the "Reset Transform" button in the now hidden
Coordinates Manager—
that add unnecessary friction. That said, Maxon made it incredibly easy to stay with the R23 style until you're ready to try a few new things. Take the time to get used to the new icons, retrain that brain, and enjoy the future.
Redesigned Icons and Icon Groupings in Cinema 4D R25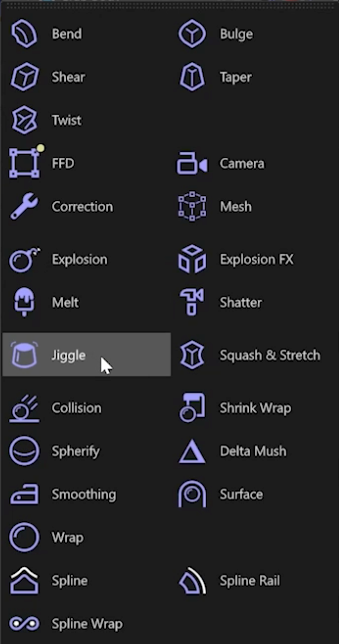 As we mentioned before, icons and groupings have changed around for Cinema 4D R25. If you're having trouble finding your favorite tools, switch back to R23 until you're more comfortable with the update UI and can retrain yourself. Once you're ready, you're going to discover some serious quality of life upgrades.
One of my favorites is the
Dynamic Content
, which adjusts the tools available based on what you're doing. Instead of building out entire presets for specific projects, the software is able to intuit what you're working on and keep a handy list of your tools right at your fingertips. In action, this can sometimes feel like the program is working alongside you, anticipating your needs. If I go to
Polygon Mode
, all the icons change to keep up, and I never have to lose my momentum.
Maxon has also redesigned their sliders to be a bit easier to grab. The functionality is the same, but the tactile feel of grabbing a value and adjusting it makes the process smoother and far more accurate.
Adding and deleting
layers
is simpler and faster with the updates to the layer window, along with a handy trash can (because who can ever get enough of a trash can?)
A Larger Viewport in Cinema 4D R25
The most obvious new change—but equally welcome—is the massive
Viewport
. When you're working in Cinema 4D, it's easy to get lost in your project and lose your spacial awareness. Having a lot more room on your screen to display the workspace is a very welcome change.
Notable New Features in Cinema 4D R25
While there are many updates to Scene Nodes and Scene Manager, those are still being revised even as we speak. However, there is one new feature that even a casual C4D user will love: the
Track Modifier Tag
. If you do a ton of animation, this replaces the old Time Tracks workflow that was pretty cumbersome.
Track Modifier Tag allows you to procedurally re-time animation, and it adds procedural Posterization, Noise, Smooth and Springy properties to animation tracks. There areso many creative things you can do with this Tag, so if you want to see a tutorial about this feature, definitely let us know!
Vector Import (aka the new iteration of CV-Artsmart)
makes the process of importing splines super easy. If you work with logos and assets from Illustrator, it makes importing and 3D-ifiying those AI layers a snap.
Redshift RT Public Beta
—a feature that was first teased back in early 2020—is the real-time engine version of Redshift and is included in R25 as a public beta.  Its similar to Blender's Eevee render in that it's close to real-time rendering.  Redshift RT will try to match the same results you're getting with Redshift's standard raytrace renderer while allowing you to use the same shaders, lights, and options.  You can literally flip a switch to go from raytrace to RT renderer, and the result will be very similar and will be a massive boon to look dev workflows.
We cover everything in a lot more detail in the video above, so be sure to give it a watch! And don't forget to download our free guide to Cinema 4D R25.
Can't wait to get into Cinema 4D R25? Same here!
If this announcement has you feeling that—now more than ever—it's important to stay relevant and gain a deeper understanding of how advanced 3D concepts work, we couldn't agree more! We even have a course built to get your skills to that next level:
Cinema 4D Ascent
!
In Cinema 4D Ascent, you'll learn to master marketable 3D concepts in Cinema 4D from Maxon Certified Trainer, EJ Hassenfratz. Over the course of 12 weeks, this class will teach you the fundamental 3D concepts you need to know to create beautiful renders and tackle any task a studio or client might throw at you.